e-Governance Initiatives:
e-Governance in West Bengal- West Bengal gearing-up for e-Governance
The key objective of e-Governance is to enable West Bengal to transform into a knowledge-driven welfare society with extensive use of IT and ITeS in Governance and in the daily lives of the people of the State
The Government is committed to build a citizen-centric, inclusive and information-driven welfare Society to make the public services available to all sections of the State in a transparent and efficient manner through e-Governance with use of Information and Communication Technology (ICT). In this direction, the Government has taken up extensive e-Governance projects and schemes in tune with the National e-Governance Plan (NeGP) as well as some State-specific initiatives.
Webel Technology Limited (WTL) is the State Designated Agency (SDA) /State Implementing Authority (SIA) for implementation of Digital India Initiatives (erstwhile National e- Governance Projects (NeGP))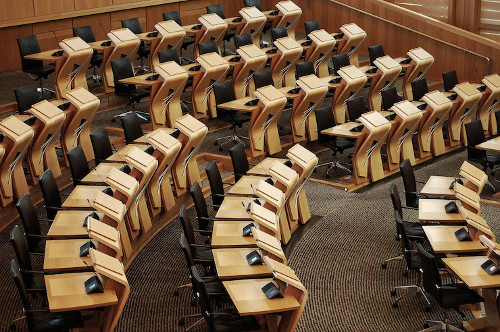 Major e-Governance initiatives & activities of WTL:
Provide Strategic advice and professional support to the various Government Departments for e-Governance
Design and monitor implementation
WTL undertakes the complete job of development of a computerized System, right from its inception till the final implementation.
WTL perform:
Feasibility and Requirement Study and Analysis
Detailed System Study
Design of the Computerized System
Software Development
Website Development
Online Application
System Implementation
West Bengal State Data Centre (WBSDC)
West Bengal State Wide Area Network (WBSWAN)
WB e-District Mission Mode Project
State Portal & Service Delivery Gateway (SSDG)
Centralized e-Office
m-Governance
Crime and Criminal Tracking and Network System (CCTNS)
e-Governance initiatives in Commercial Taxes Directorate
e-Governance initiatives in Municipalities ( e-Municipalities)
e-Governance initiatives in Land & Land Records
e-Governance initiatives in Agriculture
e-Governance initiatives in Panchayats (e-Panchayats)
Capacity Building
UIDAI and Other Projects
Community Service Centre(CSC)
Smart Card
Computerization of Govt. Depts.
Computerization of Police Networks
Centralized Document Management System
e-Procurement
All other e- Governance Projects of Government of West Bengal
West Bengal State Data Centre (WBSDC)
West Bengal State Data Center (WBSDC) has been developed by the State of West Bengal, which is envisioned as the 'Shared, reliable and secure infrastructure services centre for hosting and managing the e-Governance Applications of State and its constituent departments' and the same has been initially developed as a part of Mission Mode Project under National e-Governance Plan (NeGP) (presently known as Digital India) and to ensure adherence to common principles and policies towards realization of the vision. Subsequently SDC has been revamped & augmented using State Fund
The WBSDC is situated at a prime location within Kolkata and it is being continuously revamped with new technologies and upgraded Network & Security devices.
Department of Information Technology and Electronics, Government of West Bengal (DIT&E, GoWB) is the key and core stakeholder of implementation of various Mission Mode Projects under NeGP. As per changes in Rules of Business for e-Governance as per decision of the State Government, Webel Technology Limited (WTL) had been designated as the State Implementing Agency (SIA) towards the support of such implementation and WTL involves in execution of the work related to e- Governance activities as Nodal Agency. A Core Operational Team had been formed with the officers & Technical Experts of WTL for shouldering the responsibility of techno-administrative support of overall SDC operations, management and hosting various departmental applications at SDC.
The WBSDC is the key-supporting element of e-Government Initiatives & businesses for delivering services to the citizens with greater reliability, availability and serviceability of the Government Departments. SDC facilitates consolidation of services, applications and infrastructure. SDC provides many functionalities and some of the key functionalities are Central data repository, Secure Data Storage, Online Delivery of Services, Citizen Information/Services Portal, State Intranet Portal, Remote Management and Service Integration. As one of the pivotal constituents of National e-Governance Plan (NeGP), a series of various Government Departments applications are being hosted at SDC. Since SDC is the one and only repository of data and applications pertaining to the State e-Governance applications, the goal of SDC is to secure the Line Departments data and applications, which is one of the major challenges in these days, and to improve the quality of delivery of services to Business, Government and citizen in particular which can only be delivered through appropriate management of internal operations and back office.
The WBSDC is built upon a floor area of about 12000 +sq ft. The SWAN and WBSDC are based on the latest state-of-art technology with a vigorous architecture having multilevel redundancies, security and scalability with an additional emphasis in three-tier power supply system. The WBSDC complied with a world class Tier III+ data centre (having redundant capacity components and distribution path serving business continuity) as per TIA 942 standards with a guaranteed service level of 99.749% has a safe, secure, monitored, highly available power and cooling arrangements that is capable of accommodating several racks for network components and servers under centralized and simplified management. WBSDC is on the process of achieving ISO 27001/20000 Standard.
The WBSDC is powered through a separate substation with two different sources of grid power supplies supported with multiple generator sets. A sturdy building management system with fire fighting arrangements, water leak detection system, biometrics for access control, alarms & surveillance, rodent repellent, public address system etc ensures safe and secured operation of WBSDC complying with ISMS standards. The WBSDC is fabricated with a full-bodied network infrastructure complied with both present generation Internet Protocol (IP v4) as well next generation Internet Protocol (IP v6) using Dual-Stack deployment and equipped with multilevel security system including intrusion prevention, demilitarization and two-level firewalling. WBSDC has robust Intranet Backbone coupled with 2 different Upstream Internet Service Providers.
Besides, the Data Centre possesses several servers to cater to shared services over multiple OS platforms with virtualization, viz. Windows, Linux and database management systems such as Oracle, MSSQL etc. The shared services also include power, storage space, local area network, tape library and abundant rack space to accommodate additional servers in the server farm. Facility Management Services (FMS) including routine backup, continuous monitoring of security, servers, network devices, application and database services, immediate resolution of defects and incidents are part and parcel of the 24 x 7 operational infrastructures.
The FMS also includes furnished accommodation for the support personnel to be deployed by the Line Departments for regular support of their infrastructure. Measures are also being taken to create Disaster Recovery Service Centre (DRS) in a different seismic zone and integrate the WBSDC with it in order to maintain absolute business continuity with prevention of any data loss.
Line Departments interested in hosting applications in WBSDC may choose any one of the following hosting models depending on the complexity, criticality and volume of their application: Dedicated, Partially shared, and fully shared hosting models. They need to sign a Service Level Agreement (SLA) with Department of Information Technology & Electronics.
Keeping the above in view, it is compulsory for the SDC to adapt to standard practices since its inception which are in vogue in the global scenario. Accordingly, SDC has achieved ISO/IEC 20000:2011 that applies to IT Service Management System for maintaining desired quality of services and ISO/IEC 27001:2005 that applies to security of infrastructure, data and applications of the state. In order to meet the objectives of NeGP keeping the efficient and effective service delivery in mind, SDC is required to collaborate with several stakeholders, particularly the Original Equipment Manufacturers (OEM), the Data Centre Operator, various system integrators of the participating Line Departments and etc. In view of this, it is very pertinent and imperative that the stakeholders do follow certain standards, policies and procedures besides executing certain basic roles and responsibilities in order to avoid confusion in and among the stakeholders.
At present WBSDC is hosting 157 Important Government applications, which includes 50+ mission critical applications (e.g. eOffice, IFMS, eDistrict, eBhuchitra, eNathikaran, WBPDS Portal, Digital Ration Card System, Aadhaar seeding, Commercial Tax, Excise Portals, Egiye Bangla, CMO Portals, CMO Grievance, CMO Relief Fund, Jai Bangla, P&RD, Caste Certificate (BCWD), Directorate of Securities, Home & Hill Affairs, Public Service Commission, WB Tourism, School Management Systems, e-Pension, EODB, BMSSY, CCTNS, Duare Sarkar, Student Credit Card, Paschim Banga ReshamSilpiSamabai, State Archives, Parliamentary Affairs, New Town Green City, HIDCO SAP application, NKDA Block Chain, Polution Control Board, WB Transport, IOSMS (School Education, UDMA, GTA), Nirmal Vidyalaya (Unicef), BanglarSiksha, Directorate of Securities, Directorate of Economic Offence, WBERC, Polution Control Board, WBPHIDCL, eParimap, UDMA Common Application Form, Karma SathiProkalpa, Fire & Emergency Service, WB HIRA, WB Finance Corporation, SNLTR, eAnumati, Police Commissioner Portals (Siliguri, Malda, Chandannagar), I&W Directorate Portal, Paschim Banga Sarad Samman, Child Rights & Tracking, Lakshmir Bhandar, etc. These applications are hosted at WBSDC using 500+ Virtual Machines (Servers) under Cloud Platform alongside co-located hosting and Common hosting infrastructure (shared infrastructure).
Following are some of the key features of WBSDC
Cold Aisle Containment
Monitoring at Rack Level Temperature and Humidity
Active Tiles for High Density Racks
PAC connected through ATS (Automatic Transfer Switch)
UPS Power for RACKs connected with different source and different path (dual path)
DC Infrastructure Management for optimization in cooling, power and IT infra utilization
Non-IT passive components monitored from IBMS
Implementation of Access Control & Visitor Management Software
Migration to Blade Server from traditional Rack Server
Latest Private Cloud Solution with RHOSP 13 and RHV 4.2
Blade Fabric Interconnectivity with 40 Gbps speed
Multi- Tenancy at host level
Network Leaf Spine Architecture with High End Nexus switches with 10 Gbps speed
IPv6 enabled Data Centre
Enhancement Internet bandwidth of 10 GBPS
Maintaining 3:1 ratio for upload vs download speed
Using vPC (Virtual Port Channel) for active-active back bone
Compute Capacity of 1000 VM
Separate IPS facility and malware protection for MZ and DMZ
Separate Virtual Load Balancer for critical application
Deployment of SSL certificate through WAF for all hosted applications
Deployment of LLB with active-active WAN links
Trend Micro - DDAN (Deep Discovery Analyzer) Sandboxing and Data Analysis
4-layer Architecture for securing Web, App & Database servers
Single Management Console for managing the Trend Micro products
Coverage of all hosted applications (except collocated applications) under 4-layer architecture
Cluster mode unified storage ( Protocol :FC,ISCSI,NFS,CIFS)
All Flash Storage (Solid State Drives) + Traditional Hybrid Storage
Dedicated Backup VLAN for taking backup
Facility of Client Direct Backup
EMS for constant monitoring of all IT devices through software and auto notification to SI for incidents
Auto call in Service Desk for any incidents
Auto Email and SMS notification to concerned SI from Service Desk
Application & DB monitoring and Health Check through UIM
Reporting for all events from Jasper
Traffic Flow report of Router and Firewall through Network Flow Analysis(NFA)
Storage Capacity of 750TB
Auto notification through SMS
Service Monitoring through EMS tool
Disk threshold alert
24x7 dedicated help desk for all (response time improved from few hours to few minutes)
Centralized log monitoring through SIEM tool
Close coordination with OEMs and authorized agencies for prompt resolution of technical issues
4 layer security for critical applications
Backup facility of all VMs
The WBSDC is the key-supporting element of e-Government Initiatives & businesses for delivering services to the citizens with greater reliability, availability and serviceability of the Government Departments. SDC facilitates consolidation of services, applications and infrastructure. SDC provides many functionalities and some of the key functionalities are:
Domain Registration (Only *.wb.gov.in )
Secure Data Storage
Remote Management
Online Delivery of Services
West Bengal State Wide Area Network (WBSWAN)
WBSWAN : The State's Information Highway
West Bengal State Wide Area Network (WBSWAN) is the triple play backbone network for data, voice and video communication throughout the state of West Bengal .Over this Government Intranet, e-Governance activities of the Government of West Bengal are being carried out. WBSWAN provides connectivity of Data, Voice & Video Communication facilities from State Head Quarters at Kolkata up to all District, Sub Division and Block Headquarters.
Salient features of WBSWAN
Apart from the 433 vertical administrative units, around 1500 horizontal Government offices have been connected to this Networking backbone for accessing e-Gov services e.g video conferences, accessing internet services, e-mails , e Office and other e- Gov applications hosted at the State Data Centre. DHQs are connected to the State Head Quarters at Moni Bhandar via MPLS and NICNET over dual fiber optic links, which safe guards smooth operation in case of failure of one SHQ due to some major problem/natural disaster etc.
Government's e-mail facilities (@wb.gov.in) have been extended to various Government officials / MLAs over WBSWAN intranet or Internet.
10 Gbps Connectivity with National Knowledge Network ( NKN ) has been extended up to the WBSWAN State Head Quarters and then proliferated to various Government Departments for accessing Internet and various e-Governance applications. Apart from that two additional ISPs were introduced to increase the redundancy.
State Capital as well as each District Headquarter has studio based Video Conferencing facility through Multipoint Conferencing Unit (MCU) at Kolkata. Also the important Government buildings in Kolkata are being provided with video conferencing facilities so that Government officials can directly talk to State /district level officials.
Software based desktop video conferencing has been implemented in all districts, sub divisions and block offices.
Provision for horizontal expansion for other departments' connectivity at all levels.
Using the Networking backbone the WBSWAN team has also implemented Campus LANs and wi-fi networks in various districts with data, voice and video facilities.
Among other projects, few are listed below:
In the New Normal scenario as Video conferences have become the most important mode of communication, WBSWAN provided extensive services for the Hon'ble CM, CS and other bureaucrats of GoWB to hold regular VCs. Various award giving ceremonies and District Administrative Review meetings are being held regularly through WBSWAN.
67 Police offices (SP Offices, DIG and Police Districts) across West Bengal and 168 police offices under Kolkata Police jurisdiction are connected to WBSWAN and they are availing the VC and internet facility over WBSWAN.
Hospitals and Medical Colleges have been integrated with WBSWAN through Swasthya Bhavan for holding regular Video conferences during this pandemic situation.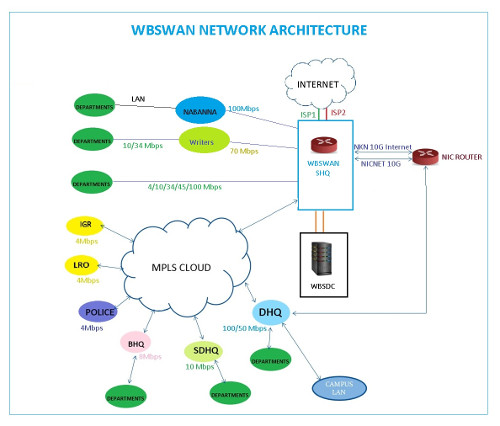 WBSWAN VC system has been allowed over internet. GPs can now avail the WBSWAN VC service by using Internet, Gram Panchayats in Jhargram , Bankura and Murshidabad are using this facility.
VoIP is integrated upto BHQ level, District Magistrates, SDOs and BDOs can easily communicate among them securely with this service. Officials at East Burdwan and Hooghly Campus LAN are also a part of this service.
CCTV surveillance has been set up at all SDO and BDO offices across the state.
CCTV surveillance systems have been implemented in RTO /ARTO offices for Transport department for recording of Driving License tests and CF tests for commercial vehicles.
Indoor Wi fi Network has been implanted in Public Service Commission Office and Birbhum District Collectorate for accessing internet and WBSWAN services.
Outdoor Wi –fi has been implemented in Diamond Harbour SDO office Campus for free public access.
WBSWAN network with failover circuit and VoIP facilities have been implemented in the WBTDCL Head Quarters, Salt Lake.
WAN/LAN Architecture provided by WBSWAN.
Other WBSWAN services & applications
To aggregate the e-Governance efforts of different Government departments in the remote offices spread across the State, Departmental WANs have been built around the backbone by connecting to the nearest node of WBSWAN.
Starting with the district level Treasuries connected over WBSWAN, now 85 sub divisional and district treasuries are connected to their head quarters at Kolkata using WBSWAN network
District level offices of Commercial Tax Department were first connected to WBSWAN for data transaction. Later, check posts, charge offices and circle offices were added to the network.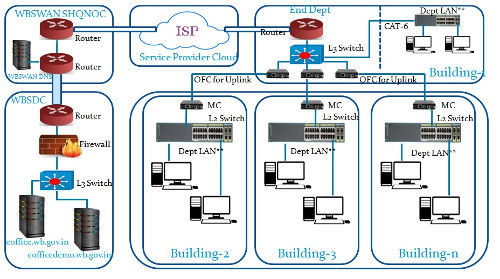 255 IGR and 424 LR offices are already connected with WBSWAN network; they can easily access Internet as well as e-Nathikaran and e-Bhuchitra application hosted at WBSDC. Apart from this, at selected 160 LR offices connectivity through SDWAN technology provided by WBSWAN.
4 PVDs and 44 RTO/ARTO offices under Transport department are connected with WBSWAN, Failover implemented using NICNET link for better redundancy.
Presently 74 Polytechnic colleges are part of WBSWAN network.
All Secretariat and Directorates are connected with WBSWAN; they can easily access WBSDC hosted application and public Internet.
About 100 Regional labour offices had been connected to the nearest WBSWAN POP so that transaction data entries can take place.
West Bengal e-District Integrated Service Delivery Platform
Brief Overview of e-District
West Bengal e-District is a Mission Mode Project with the objective of making the State's services available to the citizens through a computerized system. The services may be availed of through Internet or by visiting any Bangla Sahayata Kendra (BSK) or a Kiosk. It may not be necessary to visit the Government Offices for submitting the application, knowing the status or receiving certificate / license etc.
Webel Technology Limited (WTL) under the administrative control of Department of Personnel & Administrative Reforms, Government of West Bengal is involved in successfully implementation of WB e-District project as well as execution of the work related to all other e- Governance activities as Nodal Agency and authorized as State Implementing Agency (SIA) for Government of West Bengal.
Government of West Bengal has been awarded SKOCH ORDER –OF-MERIT (Gold Medal) for year 2017 and Technology Sabha Awards 2018 of Express Computer for Enterprise Apps Category for West Bengal e-District MMP project
The objective of the project is to provide govt. services online for the citizen (G2C).
A single-window G2C e-Governance portal where 160+ services across 23 districts and most of the departments have already gone online.
Portal hosted from State Data Centre having requisite infrastructure to ensure

Uninterrupted availability
Data security
Accessible through Internet / SWAN (State Wide Area Network)
Single point maintainability

Robust environment

Unix based Operating System (RHEL)
WebSphere as Application server
IBM DB2 as RDBMS
Load balancer
Stand-by servers

High Scalability to handle

Any number of services
High volume transactions
High adaptability

Integration with services, irrespective of technology
Across-the-counter services
End-to-end process flow based services

Available through Internet / Common service Centre / Kiosks
Salient features

Uniform look-and-feel
Instant status update to citizen through SMS / email
Instant status update to citizen through SMS / email
Application tracking through Internet / CSC / Kiosk
Periodic SMS / email alerts for approvers
Online payment to Govt. through GRIPS
Digital signature on approval
Bilingual applications (English, Bengali)
Dashboard for all
MIS for Govt. officials
Integration with e-Taal
Infrastructure:
Procurement and Commissioning of necessary Data Centre Infrastructure for hosting e-District platform considering scalability requirement of next 5 years.
Identification of requirement of infrastructure for end user locations across all districts.
Procurement and Commissioning of identified infrastructure for 491 end user locations.
Last mile connectivity at end user locations
Readiness Certificates for

the end user locations (PoPs) from respective District Magistrates
SDC from appointed third party auditor.
Application:
Identification of G2C services after discussing with all districts and departments
Requirement study ( As-Is) with concerned authority
Approval of System Requirement Specifications (SRS)
e-District Application Software Design and Development
User Acceptance Testing Sign off
STQC/Third party auditor Certification
Issuance of Govt. Order
Go live
Application Training & Capacity Building
Operation & Maintenance
Provision of Integration with services available in other departmental application irrespective of technology
Eligible to adopt complex workflow of services like RTI, Occupancy Certificate of NKDA etc. as it comprising in-built Robust and configurable workflow
Application can be Sent Back in case of any anomaly in document
Fees will be received once the application is otherwise approved
Provision for saving draft copy
Reusability of previously submitted documents by the same applicant while availing a new application.
Overcoming network bandwidth challenge by introducing the feature of uploading split documents
Dashboard on Service wise District wise transaction status for all, Govt. officers as well as applicant, to achieve transparency.
Appreciating the Top Performing Districts of the Month (with respect to Application submission and processing) by highlighting them in the Login page of the portal
URL for Applicant: https://edistrict.wb.gov.in
URL for Govt. Officers: https://edistrict.wb.gov.in/workFlow
Bilingual, Reusable and Configurable Workflow
PKI for digital signature
Automatic report generation through MIS along with dashboard view
Third party integration for SMS Gateway, single window Integration, Payment Gateway
Linked applications to the Mobile e-governance Service Delivery Gateway (MSDG)
Integrated e-governance system with Government Receipt Portal System (GRIPS) and Electronic Transaction Aggregation and Analysis Layer (e-Taal)
Accessible through Internet and WB SWAN
Improving the efficiency and effectiveness of delivery of public services electronically to citizens at their door steps
Exchange of information with citizens
Improving internal efficiency
Reducing costs or increasing revenue
Re-structuring of administrative processes
Utilizing the pillars of State Data Centres (SDCs), State Wide Area Network (SWANs) and Bangla Sahayata Kendra (BSKs) optimally to deliver the public services
formation of District e-Governance Society (DeGS) with a District Implementation Committee in the all the Districts
Deployment of District Project Managers and District Technical Managers for smooth operation.
Data recovery from DR site of SDC if needed due the Act of God or Terrorism.
Instead of mere translation of existing process, business process re-engineering done after discussing with concerned authority.
Geographical - It covers whole of the state comprising 23 districts and most of the departments.
Functional - 160+ services in production and 40 will be in production in next 1 year.
Current Status - More than 1.54 Crore of application submitted.
Pre-deployment:
Largely manual system
Inefficient underlying processes
Limited hours of operation at offices
Only offline filing of applications and documents
Only Physical interactions for all transactions - Point of delay in service delivery and had Ethical issues
Government issued documents had authentication risks – Lack of digital signatures
Government issued documents had authentication risks – Lack of digital signatures
Documents submitted in physical form- prone to mishandling and misplacement
Lack of application tracking tools
Governance report generation was time and effort consuming
Post-deployment:
Unified e-governance portal
Empowerment of citizens
Administration's service delivery boosted
Online filing of application and documents
Automatic processing of applications
Real-time tracking of application status
SMS , email and portal based alert system for tracking
Digitally signed government issued documents
Alerts to government officials about the number of cases pending for review
Hassle-free data retrieval.
Timely report generation and prompt response to public requirements by government officials.
Application received online.
Documents are scanned and attached along with applications
Status of each event notified vide SMS / e-Mail
Fees can be taken once application is principally approved
Fees can be taken online
Approval / Rejection of Application through System
Anytime downloading of Certificate / License, etc.
Fully equipped Kiosk/Helpdesk is also available to help the people less acquainted with computers and its accessories, in submitting the application or getting hard copy of the certificate.
Highly Scalable platform of WB e-District ready to handle any no. of services as well as high volume transaction
Robust platform of this project ready to adopt G2B and G2G services
Business process re-engineering:
Excellence in Government Process Re-engineering to recognize the projects that involved analysis and re-design of workflow and which resulted in improvement in outcomes related to efficiency, effectiveness of process, cost, quality, service delivery or a combination of these.
from the archaic offline Forms in force to a structured Certificate
from the tedious application process to ease of access
improved efficiencies
Status of each event notified vide SMS / e-Mail
Digitally signed Certificate /Documents ensuring authenticity
Change Management
changes in government's transaction process
change in service delivery mechanism
Increasing popularity of Online application resulting the decrease in count of Offline application drastically
Technology adaptations/ Innovative deployment
Innovative Use of Technology in e-Governance which resulted in delivering enhanced value to its beneficiaries (Citizens).
Rapid development on Java/J2EE Technology using customised e-District framework inherited from Spring
Robust and configurable workflow capable of handling complex process
Adherence to latest cyber security vulnerabilities in coding sequences, certified by Third Party Auditors
Industry best practices, standards compliant with
CMMI level 5
GIGW
W3C
OWASP's vulnerability, as applicable
JCE Encryption for online payment
Outstanding performance in Citizen-Centric Service Delivery which resulted in delivering enhanced value (qualitative or quantitative or both) to its beneficiaries.
More than 1.54 crore application submitted.